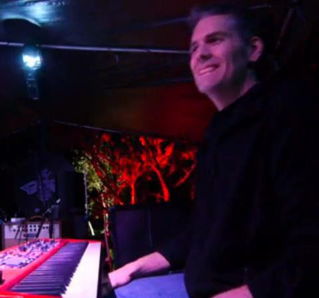 D. R. Commander's musical style is not easily categorized, but to him, it seems like a perfectly natural product of his many diverse musical experiences.  A native of Beaumont, Texas, Commander taught himself the piano at age 7 by playing along with country and pop songs on the local radio stations.  He received classical and jazz training on the trumpet in junior high and high school and played for three seasons with the University of Houston Jazz Ensemble before hanging up the trumpet to pursue his first love, the keyboard.
Commander played professionally in the Houston big band, swing, and R&B scene throughout the late 90's before moving to Austin.  From 2002-2006, he was the keyboardist for jazz fusion quintet The Harmony Theory, and from 2007-2008, he played keys for and contributed several songs to R&B/funk powerhouse Akina Adderley & the Vintage Playboys (two of those songs appear on their first album.)  Since then, Commander has performed both as a singer/songwriter and as a sideman for a variety of other artists, including most notably Peter Rowan from 2012-2013 (in his all-electric band "Twang an' Groove", alongside Hall of Fame drummer Jamie Oldaker.)  Commander also served as the keyboardist for veteran Austin jam band Flounders Without Eyes from 2010-2013, through which he had the opportunity to accompany the legendary Arthur Brown at a couple of shows.  From 2013-2015, he was the touring keyboardist for Austrian guitarist Ulrich Ellison's band ("Tribe"), which was named the best Blues/Funk/Soul band in Austin at the 2015 Austin Music Awards (Commander was named among the top 10 keyboardists in Austin.)  In addition to his work as a solo artist, Commander also currently performs with Rhythmic Statues, an Americana jam band that spun off from Peter Rowan's Twang an' Groove, and with Panic Stricken, a Widespread Panic tribute.
Commander's first solo album, "Seven Cities", was self-produced over a period of 3 1/2 years and released in April of 2013.